End to end solution - 100% defined by our customers
Combilent provides diverse solutions to ensure regulatory compliance and optimal communications. Whether you need RF testing or prototyping, our team ensures that you get custom solutions that meet your specifications.
Combilent Solutions
Combilent builds bespoke products to exceed client requirements while utilizing industrial-grade components and market-leading technologies. Whether we are making modifications to one of our existing models or creating a branded OEM solution from scratch, our products are always thoughtfully designed, rigorously tested, and fully integrated. 
To learn more, please select one of the topics.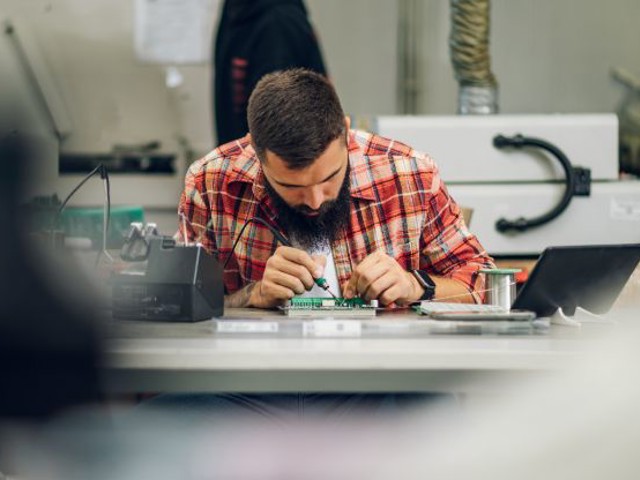 Process control management
Customers need to know when they can expect to receive customized components and systems. At Combilent, we use a sophisticated Manufacturing Execution System (MES) that tracks every step in the process, from gathering the raw materials to shipping the final product.
Our MES also helps improve quality by tracking products at the individual and batch levels. If a defect affects one item, we can track down other items in the batch and test them. Tracing products by item and batch, dramatically improves overall quality and provides transparency into the production process.
Our MES features include:
Executing incoming orders

Manufacturing control management at every step

Establishing best practices for the product and intended use

Automating the testing process

Adding unique IDs to products and batches

Reducing waste

Controlling logistics

Reporting progress in real time
About testing - And how we do it…
RF parameters
RF parameter testing include S-parameters (insertion loss, return loss, filter rejection), noise figure, and IP3.
High Power
Filters and combiners for multiple high power signals are tested to the maximum requirements i.e. operation at high altitude with a poor antenna return loss.
Passive intermodulation
We design and test for low passive intermodulation both for prototypes and in serial production.
Temperature and humidity chambers
We test the products for full operation in corners of the specification from dry cold to humid hot.
Product reliability
In applying a combination of rigorous design rules and extensive testing, we make sure that the products meet the customers' requirements for reliability and life time.
Adherence to industry standards
The products are tested to industry standards related to EMC, vibration, surge protection, corrosion, water ingress and dust ingress.
FAQ
We provide extensive logistical services using an advanced enterprise resource planning (ERP) system and continuous technical support. We also include same-day order confirmation.

We produce transmitter combiners, filters, duplexers, TMA/TTA products, RMC products, monitors, and technical support. Our highly integrated products give companies better levels of efficiency while reducing rack space.

We have provided products to companies such as Motorola Solutions, L3Harris and Airbus. Specific industries include police forces and the military.

Our primary focus is Public Safety Communication / Land Mobile Radio. We also support shore-to-ship and ground-to-air communication systems.
Depending on products and customer requirements, we support HTTPS, SNMP, TLS, certificate and password management.

All products are assembled, tested and shipped from Denmark.

We design to your specific requirements hence MOQ depends on the business case.

Please contact sales@combilent.com who will assist you in defining the best products for your application.