Do YOU know the health of your Receive antenna?
Install the Receive Line Monitor from Combilent Group today!
Reliable communications equipment plays a vital role in delivering robust communications to  public safety and business critical LMR users.
While many radio network performance monitoring solutions exist today, they often neglect the Receive antenna subsystem - a core part of an RF system. Our Receive Line Monitoring Systems fill this gap by enabling proactive monitoring of this vital antenna subsystem, performance indicators and RF interference detection, which is key to ensuring system reliability and optimized performance.
The RLM platform supports live data and logging capabilities for predictive trending and alarm/trigger notification. Armed with this information, operators have more in-depth information on system status, health and availability and can better address problems in real time. This helps deciding what spares and test equipment are needed to fix the fault before the service personnel are mobilized. Knowing the severity of the fault also helps determine the system impact, and whether an urgent response is needed.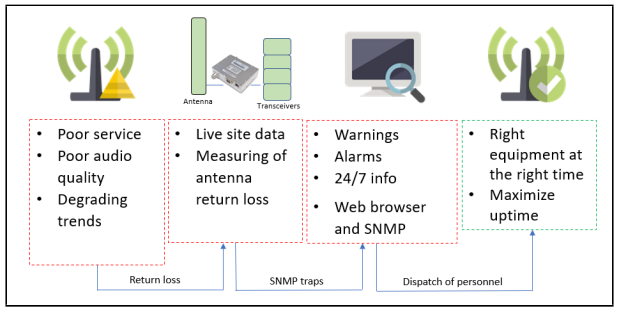 Combilent Group's reputation has been built on the quality, reliability, and robustness of its products. Our products are specifically designed to meet the needs of mission critical operations that must stay up and running 24/7. Our solutions are also known for their longevity. Not only do they continue to deliver rock solid performance over time, but they have the flexibility to keep pace with emerging technologies and the ever-changing operational requirement.
FACTS
Main Features
• Monitoring solution for the Receive Line
• Non-intrusive measurement
• Web based GUI and SNMP
• Comprehensive warning and alarm setup for ease of monitoring and troubleshooting
Key benefits
• Remote monitoring of Receive Line
• 24/7 awareness of critical RF system performance
• Real-time output and historical data
• Maximize system uptime
• Quick response to failures even prior to customer complaints (warnings before alarm)
• Allows for preventive maintenance
• Easy configuration with user friendly GUI and SNMP support
• Significant reduction of maintenance cost per system (less site visits)